San Francisco – 5th Aug 2020 – Paracosma Inc has been selected as one of the "10 Most Promising AR/VR Tech Solution Providers – 2020" by CIO Review Magazine in their June 2020 AR/VR edition.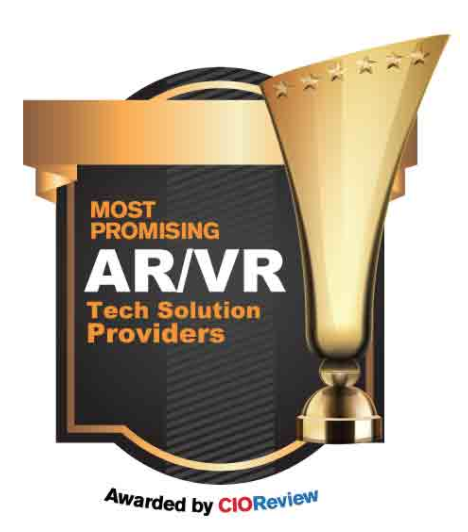 "When the entire world experiencing the impact of the COVID-19 pandemic, there is an imperative need for technology that promotes remote operations and minimizes human interactions. In such conditions, AR and VR will take the center stage in enabling a seamless transition for various industries ranging from healthcare to retail to entertainment, among others." In this edition of the CIO Review, we bring you the story of some of the most successful AR/VR tech solution providers that deliver the best outcomes for their clients", said Justin Smith, Managing Editor. "We hope this edition will provide you with the right assistance in choosing the best AR/VR tech solution providers that align with your requirements."
Paracosma has also been recognized as one of the Top 10 AR/VR Solution Providers 2019 by CIOApplications Europe and "20 Most Promising AR/VR Tech Solution Providers – 2018" by CIO Review Magazine for offering high quality AR/VR Application Development and 3D content creation services.  Paracosma services include industrial AR for machine maintenance, training, assembly and test applications; enterprise AR and VR holographic video executive training solutions and interactive training simulations for oil & gas applications; medical/surgery training; live 3D copresence and communications in virtual environments; advertising, marketing and branding experiences; a white-label 360 video distribution platform; 3D modeling and rendering for studio photography replacement; photogrammetry recreation of large-scale digital twins; as well as custom content creation and application development .
"We are honored to be recognized for our achievements again by CIOReview Magazine and to be listed among the "10 Most Promising AR/VR Tech Solution Providers – 2020", said Ken Ehrhart, Founder and CEO of Paracosma Inc. "We continue to dedicate our efforts to providing the highest quality and most advanced AR/VR services at the most affordable prices."

Additionally, Paracosma is providing VR Collaboration Services  for businesses to operate in a risk-free environment. Businesses can interact with their customers "in person" in a virtual office, auditorium, meeting hall or event venue that is accessible to anyone in the world with an Internet-connected AltspaceVR compatible device.
For a custom AltspaceVR World visit: https://coronavirus.paracosma.com/
About Paracosma
Founded in 2016, Paracosma is an Augmented and Virtual Reality (AR/VR) Service Provider with offices in the US, Japan and Nepal.  Paracosma services include application development, 3D content creation, 360 video production, and project implementation across a broad range of AR & VR platforms.  Additionally, Paracosma creates its own content in the gaming, entertainment, tourism, enterprise and education/training spaces.  Paracosma also has proprietary technology for producing, viewing, managing and distributing 360-degree photo and video content.
About CIO Review
CIO Review (www.cioreview.com) offers a ground-breaking platform allowing decision makers to share their insights, which in turn provides both budding and established entrepreneurs with analyses on information technology trends and a better understanding of the environment. As a feature, CIO Review regularly explores "the best" in a variety of areas important for technology-oriented businesses.  A distinguished panel nominates and selects leading solution and services providers in these various technology areas.
Contact Information
Paracosma Inc.
San Francisco, CA 94107
info@paracosma.com
Learn more about UnnamedVR
Corporate Vision Magazine