Augmented Reality is the technology that expands a view of the real environment with overlaid virtual images, thus changing the perception of reality for users. Unlike Virtual Reality, AR does not create a virtual environment to replace a real one, it augments the real one.
Paracosma Inc recognizes the future scope of the AR ecosystem and has been investing to build its team focused on AR projects. In AR, Paracosma has been working on in-house AR projects and also with enterprise clients to assist in manufacturing, including machine maintenance, assembly, and test applications. Paracosma has leveraged AR's potential and has completed numerous innovative AR projects. Here are a few examples:
AR Machine Maintenance
Paracosma offers industrial AR applications for machine maintenance, operations and training, as well as for manufacturing assembly and test applications.  The application shows AR way-finding arrows, part and location identification guides in AR and interactive task lists to walk users through required tasks and check off completion.  Additional features include machine vision confirmation of task completion, such as lock-off/tag off procedures for safety, as well as machine vision for calibration of virtual models with live camera view.
Home Shopping Applications
Buying new furniture for your house isn't easy. What if the new furniture does not fit in the living room? Or the color does not go with the interior?
Paracosma has developed AR Applications suitable for consumers' in-home viewing of life-size, photo-realistic 3D models for retailers to sell their products and for customers to shop without any hassle or regret. The AR Application allows users to place objects like sofas, chairs, tables, vases and other home items in the users' real environment to check out how the product look.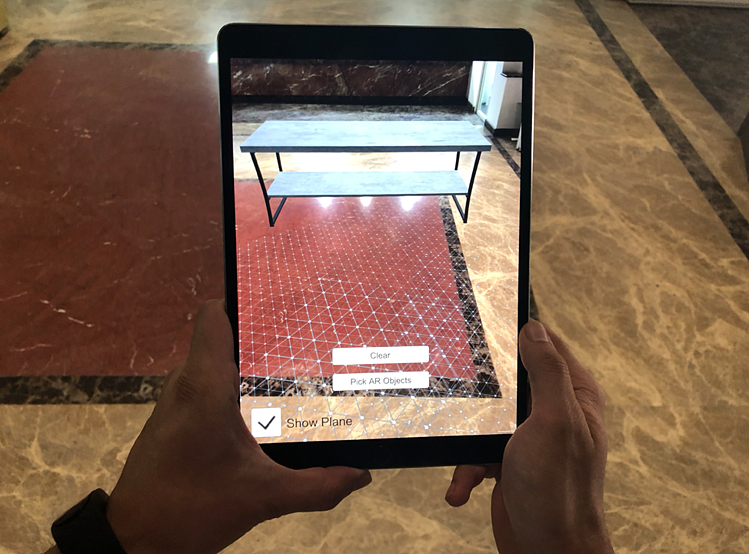 AR Branding/Advertising
Smartphone technology has provided an opportunity to experience in AR on a broad scale. Brands today are exploring the technology to engage with consumers via established distribution channels like Facebook.
Paracosma has developed Facebook AR Camera Effects for various clients. The Fairy Guide and Siren are some of the Augmented Reality (AR) camera effects that engage users in new and interactive ways. These camera effects are also developed to accomplish business outcomes by enhancing current communication experiences; such as creating specific brand logo filters or virtual try-on. Spoleto and Porkyland are some of the brand-specific AR Camera Effect projects that increase brand awareness.
AR Portal Application
As advanced AR capability becomes available on hundreds of millions of smartphones. Those smartphones are becoming capable of fully immersive 6DOF (degrees of freedom) VR. AR Portals insert a doorway or portal into the real-life view from a smartphone camera. Stepping through the portal, the user enters a fully occluded VR-like virtual world placed into the real world.  One can walk around inside and look back out through the portal.  Paracosma has gone a step further by providing a VR-mode, whereby the AR smartphone is inserted into a headset viewer providing the equivalent of a standalone, inside-out tracking 6DOF VR headset.  The next step is to bring the increasing amount of standalone VR content into Paracosma's smartphone platform.