San Francisco – January 2020 – Ken Ehrhart, the Founder and CEO of Paracosma Inc and a Cofounder and General Partner of SunBridge Partners has been recognized as one of the '10 Most Trailblazing Business Leaders to Watch in 2020' by Business Brainiac Magazine. Mr Ehrhart is featured as "An Esteemed Personality Delivering Customized IT Solutions" in an interview in the January 2020 edition of the Magazine.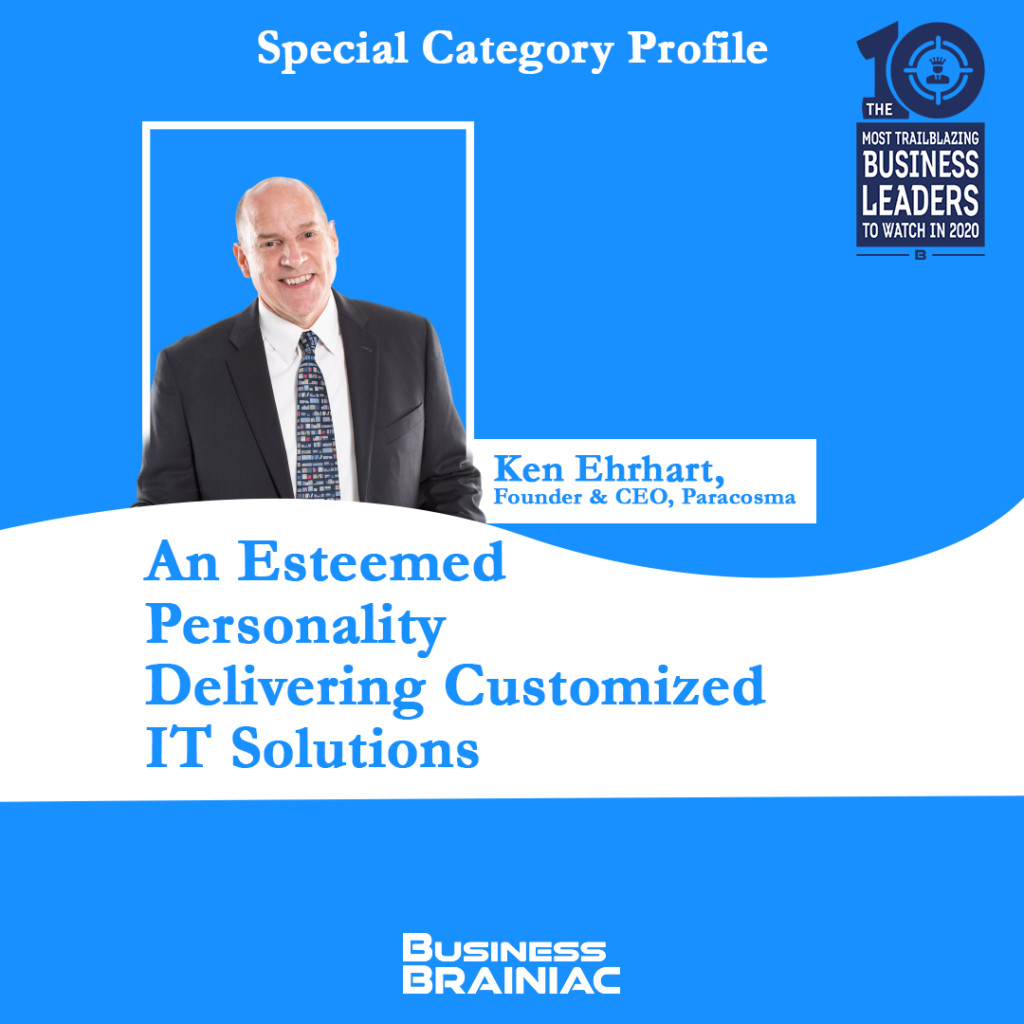 Business Brainiac's special issue on "The 10 Most Trailblazing Business Leaders to Watch in 2020" features the incredible success stories of some powerful business leaders across the globe. It highlights path-breaking, performance-oriented leaders who inspire the world with their thought-provoking leadership skills and diligent work. "Leading with their visionary and resourceful persona, these trailblazing business leaders are masterminds of their reigning eras." writes Sara Patel, Business Brainiac Magazine Editor.
In the interview, Mr. Ehrhart discusses his dual roles as a General Partner in a venture capital firm he cofounded and as the Founder of an Augmented and Virtual Reality Solutions Provider where he also serves as CEO.  He shares experiences that have influenced his current perspective on Leadership and the differing roles of Founders and CEOs.  He also shares insights into competition and personal and company growth.
"It is a great honor and humbling experience to be recognized and featured among successful business leaders from across the globe," says Mr. Ehrhart. "Such recognition forces one to reflect consciously on what is required to become and remain a successful leader.  It reminds me of the hard work still ahead to fulfill my potential."
The interview also briefly highlights various aspects of Mr. Ehrhart's 23-year journey in the technology industry from opportunities and challenges faced, experiences and skills gathered by working with different businesses and passion in advancing technology for the improvement of business and society.
About Paracosma
Founded in 2016, Paracosma is an Augmented and Virtual Reality (AR/VR) Solutions Provider with offices in the US, Japan and Nepal.  Paracosma services include application development, 3D content creation, 360 video production, and project implementation across a broad range of AR & VR platforms.  Additionally, Paracosma creates its own content in the gaming, entertainment, tourism, enterprise and education/training spaces.  Paracosma also has proprietary technology for producing, viewing, managing and distributing 360-degree photo and video content.
About SunBridge Partners
SunBridge Partners is a US and Japan-based Venture Capital firm well known for bringing leading global enterprise SAAS companies to the Japanese market.  SunBridge co-founded salesforce.com Japan and SunBridge Partners cofounded Concur Japan, Marketo Japan, Demandware Japan, among others.  TalentA is a SunBridge Partners company focused on distributing multiple SAAS products in the HR and Talent Management space, including HireVue, Fuel50 and SilkRoad in Japan.
About Business Brainiac Magazine
The Business Brainiac is an International Business Magazine, Branding, Media and Technology Company with a focus on business insight, market trends, international news, success stories of top-notch companies, and the supreme leaders across the globe.
Contact Information
Paracosma Inc.
San Francisco, CA 94107
Business Brainiac