San Francisco – 16 March 2020 – Paracosma Inc is recognized by Insights Success as one of the "World's 10 Best AR/VR Solution Providers" for 2020. The March edition of Insights Success Magazine featured an interview with Paracosma's Founder and CEO, Ken Ehrhart, as its cover story, "Paracosma Inc.: Advancing Augmented and Virtual Reality in Business through Science, Art and Experience". In the Magazine, Insight Success features and applauds "some exceptional AR/VR solution providers" "that are making a perfect blend of technology, innovation, and creativity" that it recognizes as the World's 10 Best ARVR Solutions Providers, 2020.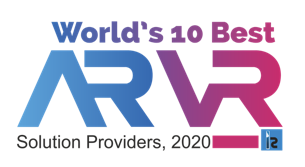 "It's a pleasure and an honor to be selected among the World's 10 Best AR and VR Solution Providers" says Mr. Ehrhart. "To be named one of the World's Best ARVR Solutions Providers recognizes the tremendous effort Paracosma has put forth towards providing some of the most advanced and high-quality solutions across diverse industries such as VR Healthcare, Emergency Response, AR Machine Maintenance, Enterprise Training, AR/VR Games and Entertainment, while maintaining excellence in delivering affordable services."
In the interview Mr. Ehrhart, provides some insight on the achievements and milestones that led to Paracosma's recognition as one of the World's Best ARVR Solutions Providers and acknowledges the critical importance of the company's growing team of expert engineers and artists along with long-term client collaboration for Paracosma's success. He also enthusiastically shares his 23 years of technology industry experience and briefly talks about the opportunities and possibilities in the AR/VR landscape.
About Paracosma
Founded in 2016, Paracosma is an Augmented and Virtual Reality (AR/VR) Solutions Provider with offices in the US, Japan and Nepal.  Paracosma services include application development, 3D content creation, 360 video production, and project implementation across a broad range of AR & VR platforms.  Additionally, Paracosma creates its own content in the gaming, entertainment, tourism, enterprise and education/training spaces.  Paracosma also has proprietary technology for producing, viewing, managing and distributing 360-degree photo and video content.
About Insights Success
Insights Success Magazine aims to be a thorough guide to all the diverse challenges of businesses and to be the Best Business Magazine across the globe for enterprises. Being a progress-driven platform, it focuses distinctively on emerging as well as leading companies, their innovative styles of conducting business and ways of delivering effective and collaborative solutions to strengthen market share. Insights Success magazine reaches out to all the 'C' Level professionals, VPs, Consultants, VCs, Managers, and HRs of various industries.
Contact Information
Paracosma Inc.
San Francisco, CA 94107
info@paracosma.com
Insights Success Magazine